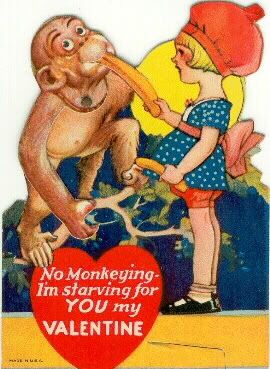 Do you want to be my valentine? This is your chance! For a limited time only (starting right now and ending when I say so) YOU can enter to win a chance to be MY valentine! All you have to do is follow these simple steps:
Submit a picture (of yourself) to me at britanypracchia@gmail.com. Try to be attractive if at all possible. If you don't feel very attractive, just send a picture of someone you wish you looked like and I will judge accordingly.
Include your name, age, height, weight, and a small description of how awesome you think I am.
Fill out this survey:
What is your ideal date? Pretend we are on a date and describe what would happen. Use a lot of funny references that you think I will get, and be as witty as possible. Also include a short description of what you look like naked.
What is your favorite color?
If I lost a limb would you still like me?
Do you have any cats?
Are you good at kissing? Hugging? Sex? Baseball?
Do you have any psycho exes I should be aware of?
What type of girls are you into? Provide a short description of how pretty I am.
Pretend it is my birthday AND you are really rich. What will you buy me?
How long can you hold your breath?
I will look over all entries with a stern and romantic eye, so put some elbow greese into it! There are loads of bonus points available if you submit your entry in video form. I will announce the winner when I find him! Or her. I don't wanna exclude anyone here. I got VD love for all yall lil boners & bonerettes! So go forth and submit! ♥