Meet David Foyer. He runs a "business" called Chef For An Evening where he offers "dinner shows" which he describes as "dinner & clean entertainment." This man approached me while I was AT WORK in the local mall in Clarksville, TN. Like every other mall ever to exist in the universe, soliciting is against the rules. It makes people feel uncomfortable and is just generally frowned upon elsewhere as well. Being that my job involves interacting with customers, I have a pretty pleasant demeanor with the people who come up to me, especially while I'm on the clock, for obvious reasons. He offered me "free tickets" to his dinner show, basically explaining that it was just a thing he did for couples where he cooks and "entertains" for them. Since he used the phrase "free tickets," I assumed this was something he normally charged for, and that was his business. As weird as it sounds, I was still nice to him and felt awkward enough to just say ok and give him my phone number. I figured the worst that would happen is he would call, and I wouldn't answer, and that would be the end of that. It seemed like a small price to pay to get this creeper to go away without just being like "FUCK OFF OLD MAN." Unfortunately, however, my choice to feign kindness to this stranger turned out to be a bad idea. He made several gross comments about how pretty I was and how being near attractive young girls made him "nervous." The man is clearly older than time, so it pretty much disgusted me. I am one of those people that will just laugh things off and pretend to be normal if I think it will get someone to just leave me alone without a big huge confrontation. As feisty as I may seem, I really do try hard to avoid fighting and arguing with people in my day to day REAL life.
So a few days pass and I receive a phone call from a number I don't recognize. I don't answer, and they don't leave a voice mail. About an hour later I get another call from a different number, with the same area code. I also don't answer and they do not leave any messages. The next day the same thing happens, and it goes on for a couple weeks that way until I finally decide to call the number that has been most persistent, which is 931-503-0820. An old man answers and says "Chef's, how can I help you?" or something like that. I realize right away that it's the old man from the mall, so I hang up without responding. I just wanted to know who it was, I didn't think that guy would STILL be trying to call me after never having any response at all. I immediately get a call back from a "BLOCKED" number, which I obviously don't answer, assuming it's the same man. I don't know why he felt the need to block his number this time, but I guess it was because he chose to leave a voicemail and assumed I'm totally fucking retarded and wouldn't put the most obvious things together, like the identical voice and the fact that he said "Chef's" again in the voicemail. I upload the recording onto YouTube to share this insane, hostile message with the rest of the world.
After that, I decide to Google this guy and find out what the fuck his problem is. I discover this site which has a bunch of complaints from people all over the country bitching about Carico Healthy Lifestyles representatives. I don't scroll too far before I find this one from Clarksville, mentioning David Foyer. I then go on to find this one and more and more all from Clarksville (or surrounding areas) complaining about David Foyer, all describing the same man that I had been approached by, and was now being harassed by on the phone. Evidently he is involved in this pyramid scheme business where he sells Carico cookware as well as tries to get other people to buy the kit so that they also can start selling, under him, and therefore making him profit more, for doing less. Now, shit like that is stupid as fuck, but who am I to judge how people want to try to make money? The issue here is not that this guy sells stupid shit to idiots, it's that he lies and does it under false pretenses. He tricks people into going to his "dinner show" which is just him in his basement demonstrating pots and pans and then aggressively trying to get them to purchase the shit, at 3 times the markup value. I then do some research and find his listing on the Better Business Bureau website, where I also filed a formal complaint about him.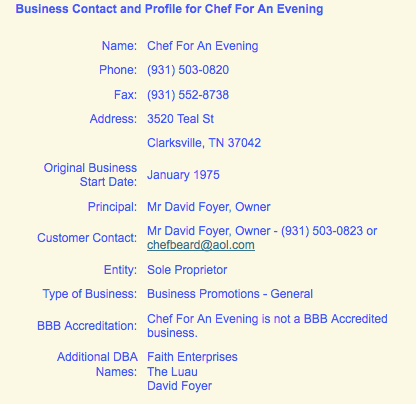 Low and behold, the two phone numbers listed there are the same numbers that had been calling me multiple times a day for the past 3 weeks. At this point I'm really frustrated, and decide to call him back and see if he will fess up to any of this shit. Not only does he refuse to be honest with me, but even after I let him know that the jig is up, he just makes up MORE LIES about some "other guy" on the internet who had been "claiming to be him," whom he is currently in the process of suing. I recorded our conversation, and you can listen to it here. My favorite part is how he answers the phone saying his name is David, but then later in the conversation I ask for his name and it's suddenly Mark. The man is a fucking sociopath. I hung up on him and he called back several times. I did not answer, but later on that night I got drunk alone in my room and thought it would be funny to call him and leave him this voicemail. Perhaps not the most mature decision I've made, but amusing nonetheless.
He proceeds to call me back several times the following morning. I don't answer the first couple.. and then I finally decide to go ahead and see what this psycho creep could possibly have to say. I shit you not, he tries to get me to schedule to come in for the fucking "dinner show" again. I cannot believe what I'm hearing. He talks to me as if he never left me a crazy voice mail or got totally ousted for being a lame ass con man. It's so ridiculous that I decide to start recording it mid-way through, in my bathroom, in pajamas, looking all Jewy & unwashed. It's so absurd that I don't even care about sharing how gross I look to the internet, because this shit is just too good.
He of course called back after I hung up on him. I didn't answer him. I was too busy looking up his "business location" via the address provided in his BBB listing. He kept insisting that it wasn't a house, and there was no basement, and it was some sort of establishment but he couldn't exactly describe it, since there is NO FUCKING OTHER THING. Just to be sure, though, I wanted to look at the address on Google maps. Behold, ladies & gents, the location of his "business":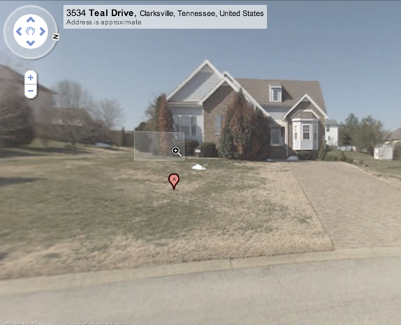 Yeah so.. that's a house, and it PROBABLY has a basement. A Hawaiin themed basement filled with a bunch of Carico cookware. You know what the saddest part of all this is? He has been doing this since 1975. Thanks to the fucking internet, however, people are able to know what this guy is really up to all with one little Google search. THIS VERY BLOG, in fact, will now show up when people Google DAVID FOYER from CLARKSVILLE, TN or CHEF FOR AN EVENING or CARICO HEALTHY LIFESTYLES. Congratulations, you pathetic excuse for a con artist.
Oh and he did leave me another voicemail, this time calling me "Linda," which is my mother's name, and I'm unsure how he even got that considering he knows my name and my name is associated with my YouTube videos.
I didn't have the heart to call him back and inform him that the voicemail I left him in which I ask for "sexual tools" is actually already on YouTube, and I put it there.. myself. Also, who the fuck calls dildos, "sexual tools?" A little late to be modest, David. Remember when you told me how pretty I was? That made me feel like the opposite of what a dildo does.