On some beautiful drunken night back in January, I made contact with a very special boner. That boner did something magical to my inner woman gut. A baby was implanted inside there, and nobody even told me. It was a total surprise party (of one) in my uterus, and I had no idea! To be clear, it was an accident. It was unplanned. It was the last thing I ever thought I'd be doing with my body. But who am I to judge the acts of the Boner God? So now I'm pregnant with a baby, and I assume the baby has a boner, because it was made from 100% pure organic fair-trade boner juice. (My boyfriend is a total health nut so that's how I know.) It's been pretty crazy so far, mostly just a lot of anxiety over the future of my vagina. I'm coming to terms with the fact that it will, probably, get totally exploded and send shrapnel flying out for miles. Tiny pieces of my placenta piercing the flesh of innocent onlookers. But alas, I've still got like 5 months to prepare for the total destruction of my once perfectly symmetrical poontang. So what have I been doing during these first 18 weeks of pego-ness, you ask? Well I will tell you. I will show you also, because I'm an expert drawer and explainer of all medical things relating to and around the vagenitals of a woman.
Some of my friends who've been pregnant have used these things on facebook that post a little drawing and give you a synopsis of what's going on during each week of pregnancy, and you know what? They're not very accurate, and they're also not very good drawings. So I made my own. This is week 4: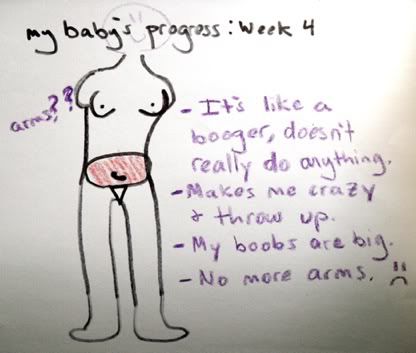 Week 4 of pregnancy is a lot like week 1 of a stomach virus and week 3 of PMS. Most women don't even know they're pregnant yet. I didn't. I thought I was just sick with homicidal rage, and eventually would start my monthly vaginal bleeding routine. In fact, at one point, I thought I did start my period. But it was only a small amount of pinkish blood and lasted for like, an hour. I says to my friend I says, "Man, I had the shortest period ever, it was literally, like, an hour." Then my friend she says to me she says, "Hmm.. you know, you could be pregnant. That could have been egg implantation bleeding." I was like "egg imitation HUH?" Then she explains that sometimes when you get pregnant, you have some pinkish bleeding from the egg implanting into your uterus. So the next day I took a pregnancy test and BAM, that bitch was right on da money! So evidently, medically, what happened was that my baby egg flew through my fallopian tube so fast and hit my uterine wall with such force (LIKE A ROCKET) that it totally caused some light bleeding. How BADASS is that?!? That was my first inclination that it was probz a boy because dudes love going fast. Duh. Common fact. OK so moving on, here is my depiction of week 8: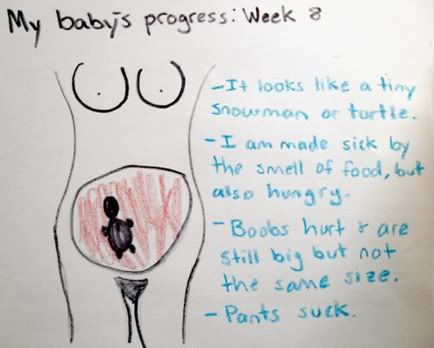 I got my first ultrasound at the ER because I was having some bleeding from some kind of incompetant placenta problem. Normally you don't get ultrasounds that early but I am like so VIP so I did. It looked like some tiny bean shaped booger just sitting there doing nothing. It was dumb, I was like, "WHAT how is that even a baby where is its rattle and shit?" But I guess this is normal. It was not even a fetus yet it's just like some cells grouped up forming a gang inside my junk, but like, the weakest dumbest gang ever who don't do anything like fight other gangs or have turf wars. It was really uneventful but I did get verification that it had a heart beat so that was cool. OK so now week 16 when things are starting to pick up a little bit.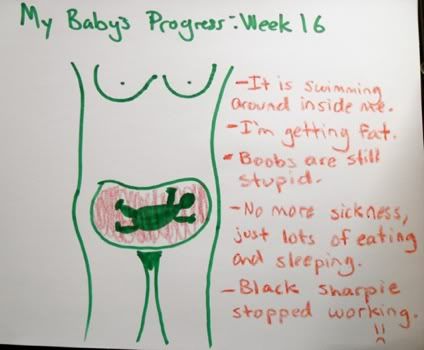 So in between 8 and 16 weeks I started to gain some weight and feel a little bit more normal, but still really emotionally crazy. After week 12 I was officially in my 2nd trimester so the nausea went away which was great because that shit sucks hard balls. I got energy back which was nice too, but I did start gaining weight and my pants got to be really uncomfortable. I was using a pony tale thing for a while, like instead of buttoning my pants.. but eventually that wasn't enough room so I just bought some maternity pants. Maternity pants are awesome and I wish I would have known that sooner, like before I ever got pregnant. They are perfect for eating a lot of food comfortably, without looking like a fucking slob in sweat pants. I'm for sure gonna wear them to Thanksgiving dinners from now on. My boobs are all swollen and hurty, and even though they've gotten bigger, they are still not the same size which is just some shitty ass mistake that mother nature made. It's like one is slightly bigger than the other, so as they grow, if that one would just hold the fuck back for a minute, the other one could catch up & we'd all be a lot happier.. but no, ol' righty thinks it's in a race to get to my belly button. But whatever, eventually they will both just be nutrient supplies for whatever is growing inside me. Tomorrow is my ultrasound to determine the sex, and it will probz have a boner.. because like I said.. it was made with a boner and it likes to move fast like a boner. I'm no doctor but I'm pretty sure 2 boners make an asshole, so this guy's probz gonna be like.. the coolest VIP dickhead ever.