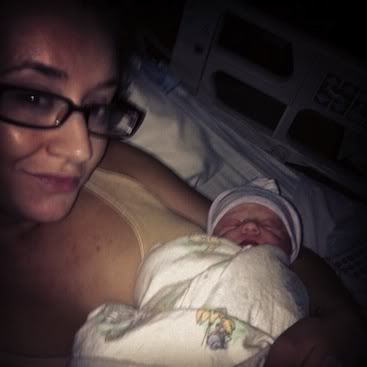 I did it! I gave all the births! On october 4th 2011, Boner Town ushered in its newest citizen: Quinn Elise Pracchia. I was induced because my baby was being anorexic or something. I was 38 weeks and she was still measuring at 36 so it was time for this booger to get sneezed out. Despite being induced with pitocin and a Foley balloon catheter (the worst part of the whole ordeal), I managed to deliver without an epidural. I wanted to go as natural as possible and in retrospect, I have no idea how I managed it, but I did, and therefore I am better than the average woman. I would DESTROY pretty much anyone in a birth off. So now that I am an expert on everything, I want to tell you all about how to have a baby if you happen to accidentally get pregnant like I did which is the smartest thing you can do for your vagina.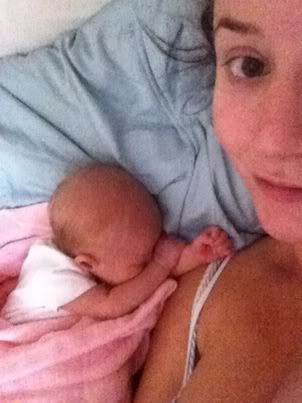 First of all, you need to have a topnotch bagina. You probably have a gross one but whatever do some exercise and go get a brazilian. Babies only like to slide out of pretty vaginas, so if you think you are going to just neglect your junk and have an easy birth you are sorely mistaken. I did labia curls 6 times a week to prep my glambox for its big debut. I also had my butthole darkened (bleaching is so last year) and got a permanent landing strip tattoo. Vaginas are like the new eyebrows, so you want to strip all the hair off and then replace it with ink to give it the illusion of the stuff you just took off of it. If being beautiful wasn't so confusing then stupid people would be doing it. Also, it doesn't hurt to have a small baby (literally). Mine was 5lbs. That's like a bag of sugar, so you can practice giving birth by having sex with a bag of sugar. Look how excited my little bag of sugar is..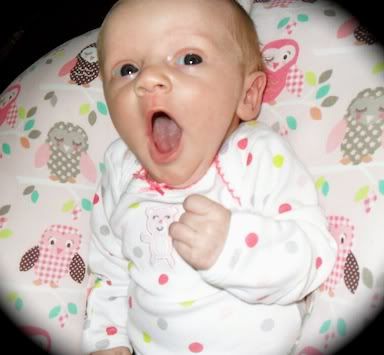 Next, you need to choose a name for your spawn. Go with something unique but not too stupid. Don't name it after your favorite fruit or relative, that's just plain silly. Don't take it that seriously though, because you risk coming up with something really unoriginal like Sooki or Reba. If you are picking a boy name, go with something really masculine like Renée. The one thing I learned after having my baby was that the name isn't really that important because you just call it "the baby" for like, ever. I went with Quinn for my baby. It's cool because it has a Q and rhymes with WIN. My one regret is not going with something "more black" like NyQuilitta or Aquaquinipha. But whatever, I can save those names for my future cats.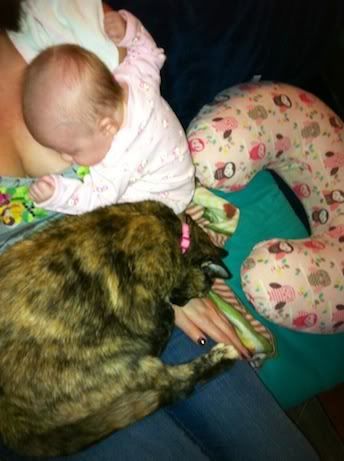 Ah cats. That brings me to my next tip. After you have your baby, don't have any more babies. Only more cats. Yes, babies are cute and funny and all that special fuzzy stuff… but they also do a lot of shitty stuff like shit, and stuff. Cats are just warm and fuzzy and cuddly and if they annoy you and you put them outside, you won't be arrested. Yes, being arrested can be invigorating and down right liberating, but it's also shitty and the opposite of liberating. So take a page out of Casey Anthony's book and don't go to prison!
Hmm what else? I'm only 2 months into this whole motherhood thing so I'm still coming to terms with what an amazingly brilliant parent I am. Oh you know what's fun to do with babies? DRESS THEM UP! I often go days without showering and wearing the same spit-up covered pajamas, but my baby gets the luxury of having multiple wardrobe changes every day. Since being pregnant makes you fat, I pretty much spent all my time and money during the final months of pregnancy buying clothes for my baby. Typically I'd buy clothes for me, because I used to be fun to dress.. but then I got all enormous and frustrating to dress. Babies are always fun to dress though, even fat ones because a fat baby is still a really small person, and as we all know, small people are HOT PEOPLE! I secretly hoped that I'd have a midget baby, even though there aren't any midget genes in either mine or my babydaddy's family. Midget babies are really cute though, Google them! So yeah, dressing up your baby is a fun way of wasting all your free time. Here's my little turkey (plus my adorbz babydaddy boyfriend) celebrating her first Thanksgiving..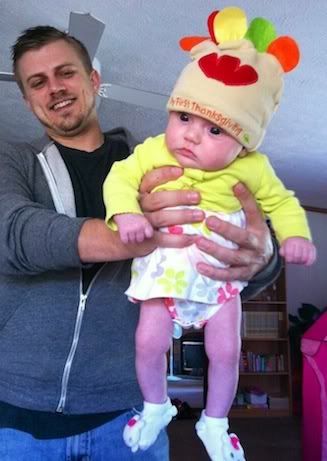 I don't have any more tips right now but I do want to share some interesting facts about my baby. She is really super ultra mega adorable (I know I know, that's not a surprise considering the magnificent vagina she was expelled from). But for realz she is probably the cutest baby there ever was. You could solve world hunger with her cuteness. You could end wars with my baby's cheeks. No lie. PLUS she was born with an abnormally high level of street cred because my womb was blessed by the ghost of Tupac Shakur, and you can totally tell because she looks just like him.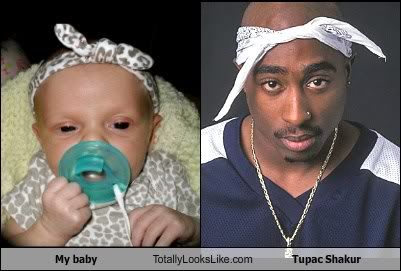 It's cool and everything but she is always talking real ghetto and telling me how she "runs Compton." I try to make cutesy baby talk at her but she just throws up gang signs and shits herself. She's a regular lil' hoodrat. The other day she told me to go buy her REAL CIGARETTES.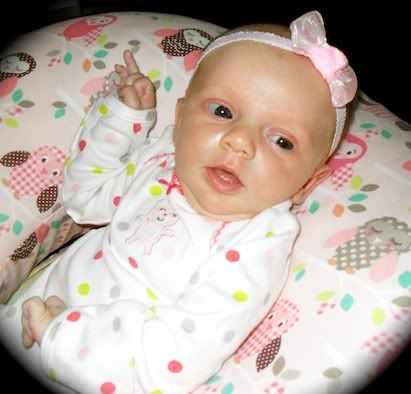 Anywayz doe, that's about all the baby info I have for now. Check back soon for some more great parenting tips!